Fall 2022
Welcome to Faulkner Law!
The faculty, staff, and administration look forward to welcoming you to campus as you begin your law school education. This website provides helpful information regarding Online Registration and New Student Orientation as well as other details that will be essential as you start law school.
This website will be updated throughout the summer with additional information regarding New Student Orientation, Registration, and the first week of class. Continue checking back for more details. 
If you have Admissions questions, please reach out to the Faulkner Law Admissions Office. If you have questions about New Student Orientation, please email the Assistant Dean of Students, Assistant Dean Jennifer DeBoer.
New Student Orientation 2022
As you begin your law school career, the Law School hosts New Student Orientation to assist law students in their transition to the unparalleled academic rigors of law school. New Student Orientation is mandatory for traditional J.D. students. Executive J.D. Schedule students are encouraged to attend New Student Orientation in person.
Orientation Schedule
New Student Orientation will be held on Thursday, August 11 through Friday, August 12, 2022, on campus at Faulkner University.
All Full-time Schedule students are required to attend both days of New Student Orientation. Executive Schedule students are encouraged to attend. The sessions will be live-streamed on the Academic Success site in Canvas for Executive Schedule students to view during the sessions. The sessions will also be recorded for all students to have access to at a later time.
2022 New Student Orientation Schedule
Orientation Registration
Sign up to attend Orientation at 2022 New Student Orientation Registration.
Please complete the Orientation registration by Sunday, August 7th.
If you are an incoming Full-Time Schedule student, please plan to attend Orientation on August 11th and 12th.
If you are an incoming Executive Schedule student, you are welcome to attend. We hope to see you there!
(Note: All incoming law students will receive a Faulkner Law t-shirt. The Orientation Registration form has been updated to remove details about t-shirt sizing as the t-shirt ordering deadline has passed. Do not worry though -- we have ordered extras.)
Orientation Dress Code
The New Student Orientation dress code is business casual on Thursday, August 11. On Friday, August 12, please dress in business professional attire.
Orientation Photos
Incoming students will have their photos taken on the first day of Orientation. This photo will be used for your student I.D. and for the 1L student directory that is provided to faculty.
Executive Schedule students who are not available to attend Orientation will have their photos taken the first weekend of class.
Parking Decal
Every Faulkner Law student must have a University parking decal displayed on his/her vehicle. To register for a parking decal, please complete the Faulkner University Parking Decal Form. If an incoming student completes this form prior to August 1st, the decal will be available at Orientation Check-In.
Housing Information
Faulkner Law does not have on-campus housing for law students. There are many outstanding apartments and neighborhoods that are a short drive from campus. We encourage you to start planning for your move today.  More information about suitable housing options may be obtained by calling the Admissions Office.
First Day of Class 2022
Full-time Schedule
The first day of class for Full-time Schedule students will be on Monday, August 15, 2022.
Executive Schedule
The first day of online classes for Executive Schedule students will be on Sunday, August 14, 2022. The first day of in-person, on campus classes for Executive Schedule students will be on Friday, August 19, 2022.
Academic Calendar and Schedules
Instructions for Obtaining Your Faulkner Law Email Address
Helpful Academic Success Resources to Prepare for Class
In preparing for your first class, it will be beneficial to learn how to read legal opinions and brief cases. Please review the following items prior to Orientation. If you will not be in attendance for Orientation, please review these items before the first day of class.
How to Read a Legal Opinion: A Guide for New Law Students
Utilize the Case Brief Template when preparing case briefs for class. Please note that this template can be adapted for each professor's class.
Class Registration - July 14-15
All incoming first year students will take the required courses set by the curriculum. The Law Registrar will assign each incoming student's classes. Please follow the links below to the appropriate instructions.
Executive Schedule Registration Instructions
Full-Time Registration Instructions
Textbooks
Once you have completed online registration, you may begin purchasing your textbooks from the vendor of your choice. The required textbooks for each class and section are listed on the Faulkner Online Bookstore.  The Faulkner University Online Bookstore is located here:  Faulkner's Online Bookstore. Please be sure to refer to your individual schedule when purchasing textbooks.
With the online bookstore, you can:
See the books required for your class and section.

Buy all your course materials, all in one place, all based on your course schedule.

Choose from new, used, rental, and digital materials.

Add all your course materials to your cart with a single click.

Enjoy fast shipping and easy returns.

Easily sell qualifying books back at the end of the semester.
Vouchers
Once you have completed online registration AND have completed the financial aid process, you may request a book voucher.  Students may choose to request a book voucher to purchase their books through the online bookstore.
Book Voucher Request - Fall 2022
This book voucher form should be returned to Brittney Barganier in Student Accounts at bbarganier@faulkner.edu.
After the bookstore has time to process the entry, an email with the voucher ID and other information will be sent to the email address provided on the voucher request form. Unused funds will be returned to the student's account after the bookstore notifies the Student Accounts Office of the amount remaining.
Financial Aid Information
2022 Full-time Schedule Financial Aid Information
2022 Executive Schedule Financial Aid Information
Upcoming Events
Come get social with the Student Bar Association!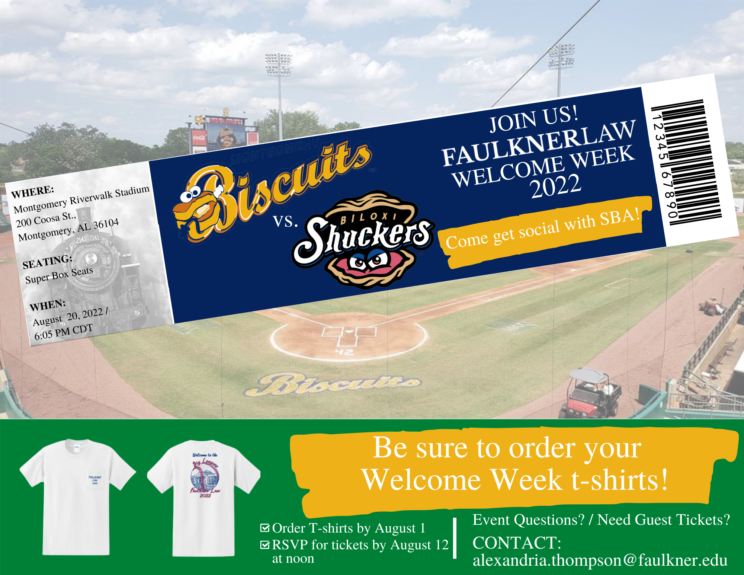 Join the SBA for a night out at a Montgomery Biscuits baseball game on Saturday, August 20th. Come meet your new classmates while taking in a night at the ballpark.
Location: Riverwalk Stadium, 200 Coosa Street, Montgomery, AL
Time: The game starts at 6:05 p.m. CST. Get there a bit early to pick up your ticket.
Cost: All Faulkner Law students who RSVP will receive a free ticket to the game. Law students can purchase tickets for guests through this website for $12 each.
RSVP Deadline:  The deadline to RSVP for the baseball game and to purchase guest tickets is noon on Friday, August 12.
T-Shirts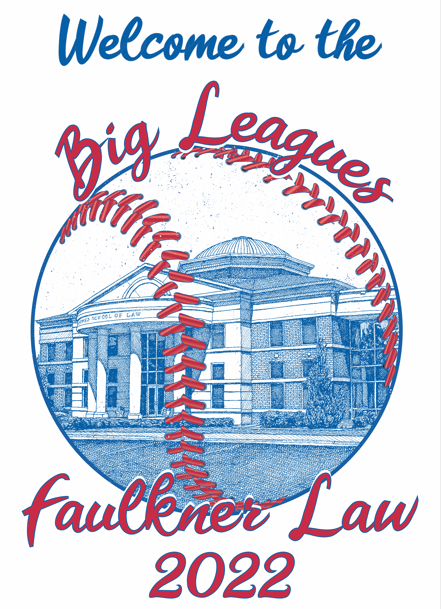 T-Shirts are also available for the event.
The deadline to order t-shirts has passed. T-Shirts will be delivered by the SBA. If you ordered a t-shirt, please watch for forthcoming pick up details.
Even though the t-shirt deadline has passed, there is still an opportunity to reserve your game tickets.
Event questions?