MONTGOMERY, Ala. – The Montgomery Area Chamber of Commerce announced Faulkner University Jones School of Law as the inaugural 2018 MGM Impact Maker in the Mid-size Business Category today.
The announcement of the 2018 Impact Makers was made at the Montgomery Chamber's 146th Annual Meeting on December 11. The Impact Makers campaign was a way for the Montgomery Chamber to honor and recognize member businesses within the community who are also making an impact in the following areas:
Talent – Education, Workforce Development, Recruiting and Maintaining Young Talent
Economy – Creating and Preserving Jobs, Small Business Development, Economic Development and Corporate Recruitment
Image – Transforming Montgomery's Image and Quality of Place for Locals, Business Owners and Visitors
Community – Foster Collaboration among Elected Leadership; Engage Business Stakeholders & Business Owners to Increase Community Capacity
Military – Making Montgomery the Best Hometown in the Air Force by supporting military neighbors and families and helping develop new industry verticals that sustain Maxwell-Gunter Air Force base and enrich the entire River Region.
More than 50 nominations were made and over 70,000 votes were cast to determine the category winners.
Jina Miniard publications director for the Montgomery Area Chamber of Commerce and Pam Mashburn with exploreMedia and an ambassador for the Montgomery Chamber visited Faulkner last week to surprise university leadership, faculty and staff with the announcement.
"Thank you so much for the impact that you make in Montgomery. We appreciate all you do in the community and the city and we're just excited you wanted to be a part of it," Miniard said.
Jones School of Law Interim Dean Charles Campbell said having the school named an MGM Impact Maker is a testament to the law school's 90-year legacy of serving the River Region.
"Faulkner University's Jones School of School of Law is honored to be named an MGM Impact Maker—especially as we celebrate our 90th anniversary in Montgomery. Through our award-winning clinics, our nationally-ranked advocacy program, and especially our outstanding alumni, students, faculty, and staff, Jones School of Law strives to make a positive impact on Montgomery and Alabama every day. We look forward to another 90 years of serving our community."
"For 90 years our law school has graduated approximately 2,500 alumni who have and continue to be leaders in the Montgomery area, our state and the nation," said Bryan Morgan, director of Career Development at Jones School of Law.
"We have over 60 of our alumni presently serving as Judges or District Attorneys with others who have served and are serving in Congress, business and in many law firms and state agencies.  Our current law students come from many walks of life, excel in the classroom and on the bar exam and succeed in the work place in many areas."
Faulkner University's Jones School of Law produces practice ready attorneys who, in the spirit of Isaiah 1:17, yearn to serve their neighbor and seek justice for the most vulnerable among us. Faulkner Law boasts a nationally ranked advocacy program and hosts the annual Mockingbird Challenge a national invitational mock trial tournament.  The school has three award-winning legal clinics that provide legal services at no cost to those in need in Montgomery and the River Region. Additionally, Faulkner Law students serve the Montgomery community throughout the year providing thousands of hours of volunteer service hours.
"Even before ABA accreditation, the high standards and reputation of the Thomas Goode Jones School of Law at Faulkner University were the subject of comment from among my peers and those practitioners who were my seniors," said Arthur F. Ray II, Assistant General Counsel for the Alabama Department of Labor and a 1996 graduate of Jones.
"As I saw judges, elder statesmen of the Bar, successful business persons and many in state government among our alumni, I realized that the law school had an impact. As I have come to know and hear from city leaders in Montgomery over the years, it has become apparent to me that the law school has provided not only an institution that can be bragged on by the city, but one that, in a real way, helps positively impact the economics and socio-political environment of the city for the better."
Daryl Bailey serves as District Attorney for Montgomery and is a proud 1996 alumnus of Jones School of Law.
"The education that I received from this awesome institution fully prepared me to practice law and made me a better person.  The faculty is top notch and invested so much in me not only as a student but a person.  They truly cared.  I am forever thankful to Jones School of Law for making me the lawyer that I am today," Bailey said.
Jones has indeed made and continues to make a positive impact on our community by training successful lawyers, attorneys and judges that stay in the area and serve the community and the state. Graduates and students alike take what they have learned and help others in the court and in a myriad of different organizations like the One Place Family Sunshine Center, the Montgomery Area Council on Aging and others. Students in Faulkner Law's Elder Law and Family Violence Clinics represent low-income Montgomery county residents and law students also participate in monthly pro bono Advice and Counsel Clinics. Student in the Kenneth F. Dunham Mediation Clinic help resolve real court cases.
"As District Court Judge, the Jones School of Law mediation students have been a wonderful asset to the courtroom.  Each month they join me in court to try to resolve civil cases through mediation without any costs to the parties involved and the success rate is extremely high," said Autauga County District Judge Joy Booth.
Student Bar Association President Michaela Tillery is in her third year at Jones School of Law and said her future career is already being shaped at Jones.
"Jones has taught me all the practical and analytical skills I could ever need to succeed in the practice of law," Tillery said. "Jones' professors are people dedicated to making sure we that we not only have the ability to research and know the law, but also to be able to apply that law with integrity and zeal for our clients."
"Third year law student interns provided by Jones School of Law are invaluable assets to One Place Family Justice Center. The students file protection from abuse orders for domestic/dating violence, intimate partner sexual abuse and elder abuse on behalf of the victims we serve.  Interns also assist partner attorneys from Legal Services Alabama with civil legal matters as needed," said Kaye Harris, executive director of One Place Family Justice Center.
John Craft, director of the Legal Clinics at Jones said, "Jones is being recognized for its community impact and I am particularly happy for the legal clinic students who are doing what Faulkner lawyers do every day – serve others."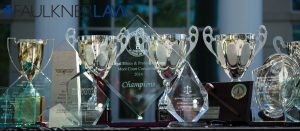 Alabama Supreme Court Justice Tommy Bryan said, "Jones School of Law provided me with a quality legal education that has served me well in all areas of my career.  Montgomery is fortunate to have an institution that continues to prepare future lawyers to serve with integrity and excellence."
Judge Jimmy Pool of the 15th Judicial Circuit said, "I have utilized the Mediation team from Faulkner's Jones School of Law since 2009.  They assist the Court by mediating some of our most contentious small claims and district civil cases.  Their assistance is invaluable to our District Court.  It is an absolute win-win.  They get the real life experience and we get the disposal of cases.  Another tremendous benefit is that the public leaves the courthouse with a positive impression of our justice system.  The team is always engaging, willing, and resourceful.  It is well trained and disciplined.  It is one of our most treasured assets."
Effie Hawthorne, Assistant Attorney General at the Home Builders Licensure Board and a 2013 graduate of Jones said, "Jones School of Law strengthened my desire to stay active in both my local and state bar associations and to give back to the community whenever possible. I am thankful that I had several professors and staff members who showed a personal interest in my progress and success. I believe that they, along with the camaraderie forged during law school, are what push students to go that last mile to the finish line in law school and subsequently go that extra mile once they become practicing attorneys."
Elyce Morris, director of the Dispute Resolution Program and the Kenneth F. Dunham Mediation Clinic at Jones said, "Service resides at the heart of all good lawyering.  Whether advocating, problem-solving, or crafting a deal, attorneys employ their skills for the benefit of others.  This award acknowledges the dedication and skill of our students, faculty and numerous community partners.  I hope this recognition inspires our students and partners to continue serving in humility with excellence, knowing that our efforts have tangible, positive benefits in our community."