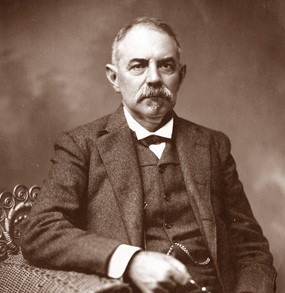 By Dean Charles Campbell
Faulkner University's Jones School of Law is celebrating its 90th anniversary this year after being established in 1928.
The school is named in memory of Thomas Goode Jones (1844-1914) and continues to be an important piece of Montgomery and Alabama's legal community. Thomas Goode Jones was a Montgomery Civil War veteran who first came to prominence after the war by urging national reconciliation. He served in the Alabama legislature and two terms as governor of Alabama. President Theodore Roosevelt appointed him to be a federal district judge for the Northern and Middle Districts of Alabama in 1901, on the recommendation of Booker T. Washington. As a federal judge, Jones was known for attempting to end the peonage system and for encouraging the use of federal law to punish lynching.
Judge Jones's son, a Montgomery County circuit judge for many years, began holding law classes in the county courthouse in 1924, and he officially established the law school in 1928, naming it after his father. Leading Montgomery attorneys and judges taught the classes, which quickly moved out of the courthouse and into a series of locations in downtown Montgomery. Eventually, the law school found a home in a building on Hull Street, right behind the Jones home on Adams Avenue.
After the death of its founder in 1963, the law school passed through a series of owners. Faulkner University purchased it in 1983 and, in 1996, constructed a new building for it that was expanded in 2001 and again in 2011. The law school obtained provisional approval from the American Bar Association in 2006, followed by full approval in 2009, making Jones the third ABA-accredited law school in Alabama.
After 90 years, Jones has more than 2,500 alumni, many of whom have risen to the top of the Alabama bench and bar. Four graduates have served on the Supreme Court of Alabama, and three more have served on the state courts of appeals. Nearly 40 Jones graduates have served as state and federal trial judges; nine currently serve as district attorneys. Hundreds of Jones alumni are employed in public service. Many more are in private practice at some of the best firms in the state, such as Beasley Allen, Crow, Methvin, Portis & Miles, P.C., where, led by Greg Allen, more than 30 Jones graduates now practice.
Students at Jones come from a variety of backgrounds. They engage in substantial public service while in law school through the elder law, family violence, and mediation clinics, as well as other pro bono service opportunities and student organizations. In fact, the school's legal clinics recently won the Gold Medallion award from the Montgomery County Bar Foundation Volunteer Lawyers Program for the third year in a row. 
The law school has built a national reputation in trial advocacy. The most recent U.S. News rankings rated the trial advocacy program 15th in the nation. The faculty continue to build solid reputations for scholarship, teaching, and service, and regularly participate in academic conferences and publish in top law reviews. Over the past two years, the law school has significantly improved the entering qualifications of its incoming students, with the current first-year class having some of the best undergraduate grades in the law school's history.