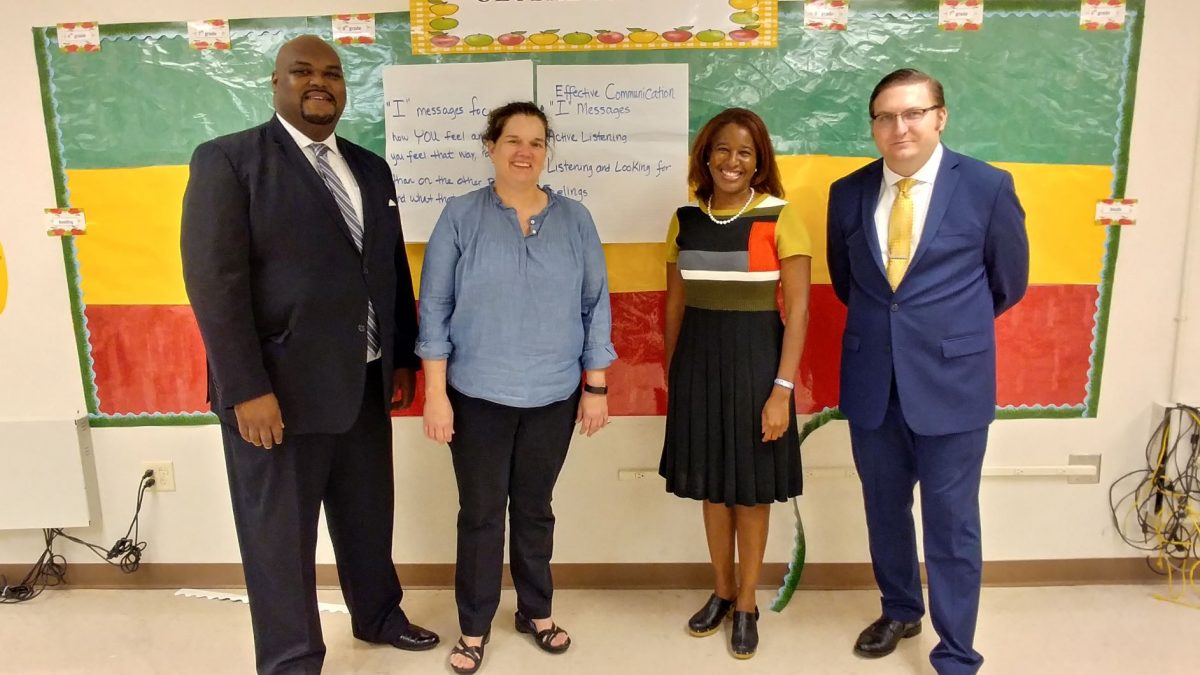 This fall members of the Faulkner Law community stepped outside their classrooms and into the Montgomery Public Schools (MPS) to help equip students with communication and conflict resolution skills through Words Work, a program designed to promote learning and civility among youth. As a part of the program, law students, professors and commission members volunteer for an hour and a half once a week.
"Following our mission at Faulkner Law to learn law and teach justice, we aim for our students to become moral agents in the world not only in formal court settings, but also as peacemakers," said Elyce Morris, associate professor of law, director of the Kenneth F. Dunham Mediation Clinic and director of Dispute Resolution Programs serves on the Alabama Supreme Court Commission on Dispute Resolution (Commission).
"As lawyers, we want to help bring stability to society in ways that better life for everyone. When students are given tools to communicate better with others, there is less potential for conflict at school, at home and in community and more opportunity to focus on academics and personal growth," she said.
One of the goals of the undertaking is to encourage students who participate to share what they learn with others at school, in their homes and in their neighborhoods.
"In response to the rising levels of school conflict, we looked to incorporate conflict resolution in an authentic way," said Camille Anderson-Finley, Director, Family and Community Engagement MPS. "We believed our efforts could help our students understand conflicts and how to manage them. Our previous work with Faulkner Law Students in other activities led us to believe they would be consistent and caring with our students and they have been just that."
The Words Work collaboration with MPS aligns with Faulkner Law's ethos of serving the needs of the community and the commission's charge to provide dispute resolution education and training to the bar, the judiciary and the public.
"These skills are great for solving legal disputes, but they also are general principles good for daily life with family and friends," said lawyer, mediator and arbitrator Bill Coleman, who also is of counsel at Capel & Howard P.C. and a member of the commission.
"Even with tremendous and never-ending advances in technology, words continue to be a necessary part of most of our communications. Words are powerful. They can hurt and they can heal. Teaching children how to use words to express themselves in positive ways such as problems solving and dispute resolution is a commendable endeavor," said commission member and Tuscaloosa attorney Cooper Shattuck.
Sixth and eighth grade students at Bellingrath Middle School are the first to participate in Words Work in Montgomery and discussion continues about additional ways to bring conflict resolution and mediation skills to public schools and the community.
"Conflict happens, it's a normal part of our lives and is an opportunity for us to grow into better people if we have the tools to respond productively," Morris said.