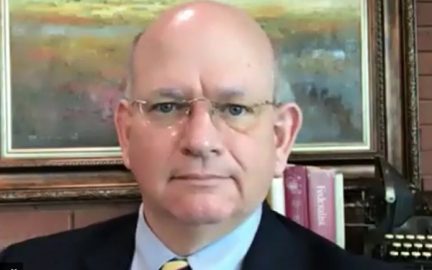 Welcome to Faulkner University's Thomas Goode Jones School of Law. For over 90 years, Jones School of Law has educated lawyers who have gone on to distinguished careers serving our state and nation — on the Alabama Supreme Court, as state and federal judges, as outstanding attorneys and leaders in the Alabama State Bar, as members of the Armed Forces, and as successful business leaders. We invite you to join them.
We believe legal education should begin even before the first semester of law school. So, we design our orientation programs specifically to help you understand the law school experience. Next, our first-year courses are the building blocks upon which the rest of your legal education will depend. In addition, the first year includes the development of research and writing skills that are essential to the life of a lawyer. Finally, you will have the opportunity to explore the foundations of jurisprudence and our legal system. We regard all of these as essential to becoming a complete lawyer — a person with the knowledge, understanding, and the moral foundation to represent clients successfully.
Beyond the first year, we provide opportunities to develop significantly enhanced legal skills. Our nationally ranked trial and appellate advocacy program provides wonderful experience in the art of oral and written advocacy. Our clinics offer an opportunity to use your skills to represent and serve real clients. All of our clinics are organized around the principle of service consistent with our Christian mission. Our curricular pathways give those who know the area of law in which they want to practice an opportunity to study related areas in greater depth. Finally, our student organizations bring speakers and engage in activities that enhance classroom learning. We do not pretend that you will graduate law school as a "complete lawyer"; that only comes with the experience of practicing law. We want to give you as much experience as we can, however, to set you on the path to representing your clients with great skill and integrity.
Finally, the capstone of your legal education is the bar examination. No one practices law without passing the bar, and one of our principal tasks is to prepare you well for it. To do that, we provide a third-year course to launch an intensive season of preparing for the bar examination.
Once you join the bar, your education will continue in practice. Thus, we prepare students to be lifelong students of the law. We also want you to see your career as an opportunity for service — to your clients, to the state in which you practice, and to the nation. We want that service to be rendered with the highest sense of professional ethics and morality, so that lawyers from Faulkner University's Jones School of Law are seen as leaders who strengthen not only the legal system, but also the moral character of our state and nation.
Scripture expresses our mission well — "learn to do good; seek justice, correct oppression; bring justice to the fatherless, plead the widow's cause" (Isaiah 1:17 ESV). We hope our unique approach to legal education resonates with you, and we invite you to join us.
Best regards,
Charles B. Campbell
Dean & Associate Professor of Law