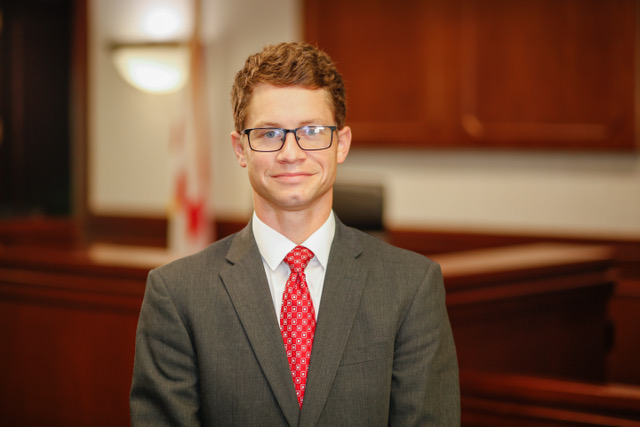 MONTGOMERY, Ala. – On December 9, 2020, Faulkner University's Thomas Goode Jones School of Law announced the recipient of its 2019–2020 Most Outstanding First Year Student Award.
Every year, the Most Outstanding First Year Student Award is presented to the first-year student considered most outstanding based upon the student's cumulative GPA, professional character, and contributions to Thomas Goode Jones School of Law and Faulkner University. It is presented in honor of John M. Patterson, former governor and attorney general of Alabama and retired judge of the Alabama Court of Criminal Appeals.
This year's recipient is Soren A. Geiger from Montgomery, Alabama. Mr. Geiger was on the Dean's List both semesters of his first year in law school and wrote multiple best papers in his classes. He is now an editor of the Faulkner Law Review, a Dean's Fellow, and a member of the law school's National Moot Court Competition team.
Geiger is a 2012 honors graduate of Hillsdale College in Michigan and a 2008 graduate of Eastwood Christian School in Montgomery. Prior to law school, he was a research assistant to Hillsdale College President Larry P. Arnn and the director of research for the official biography of Sir Winston S. Churchill.
"My first year of law school was both difficult and rewarding. It required me to work harder than I ever had before. It also confirmed for me that I have found my calling. The more I study the law, build relationships with my professors and colleagues, and observe the practice of the law beyond the walls of the school, the more I am eager to enter the fray myself as a licensed professional," Geiger said.
"To have been recognized with this award is a great honor and a humbling experience. I am studying the law alongside some highly talented young men and women, who I am confident will go on to lead outstanding legal careers," Geiger added. "The seriousness and focus with which they approach their legal education has pushed me to excel to the best of my ability. I am also grateful to my professors, whose passion for teaching the law made my first year an enjoyable, enriching, and exciting one."