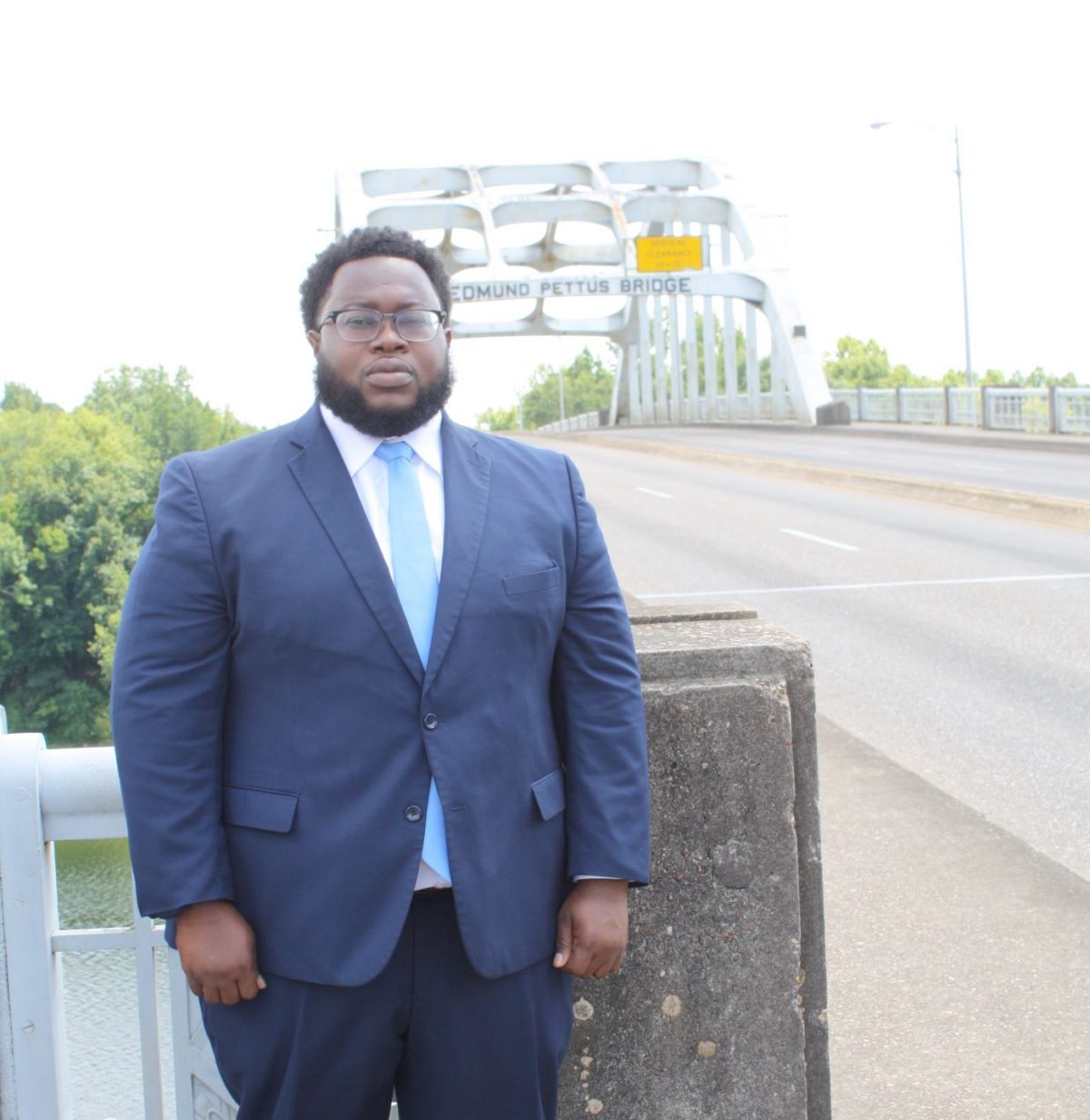 Born and raised in Selma, Alabama, Faulkner University's Jones School of Law (JSL) graduates and attorneys Kameisha Logan's and Donavon McGuire's roots go deep into the Southern clay of the historic town. It's where the civil rights movement met a turning point on the Edmund Pettus Bridge decades ago and where they continue the work of criminal justice reform, legal education and advocating for their neighbors inside the courtroom.
It's this setting that lends a backdrop to their work in continuing to provide legal services for the underserved and provide a voice to the voiceless.
"When I decided to go to Jones School of Law, my passion was criminal defense work and reform and helping be a voice for those who are wrongly convicted so everyone is treated equally," Logan said. "Practicing law now for a year has not dimmed my passion, it has only broadened my view of law and the need for family law and mediation. What's the point of having a law degree if I can't make a difference in someone's life?"
Learning and practicing law is one way Logan was able to come back to her hometown and give back to her community.
In August, Logan successfully opened her own law firm at the age of 26, after working for the nonprofit organization, Legal Services Alabama in the Selma office for more than a year where she represented clients in civil matters at no cost. Opening the doors of her own office would allow her the freedom to take the cases where she is needed most.
"As a lawyer, you see people at the lowest point of their lives and they are in need of our help," Logan said. "What I learned working in Selma, is how to help people who are less fortunate so they are not being taken advantage of by the system and they can go home at night and not worry about a big legal bill."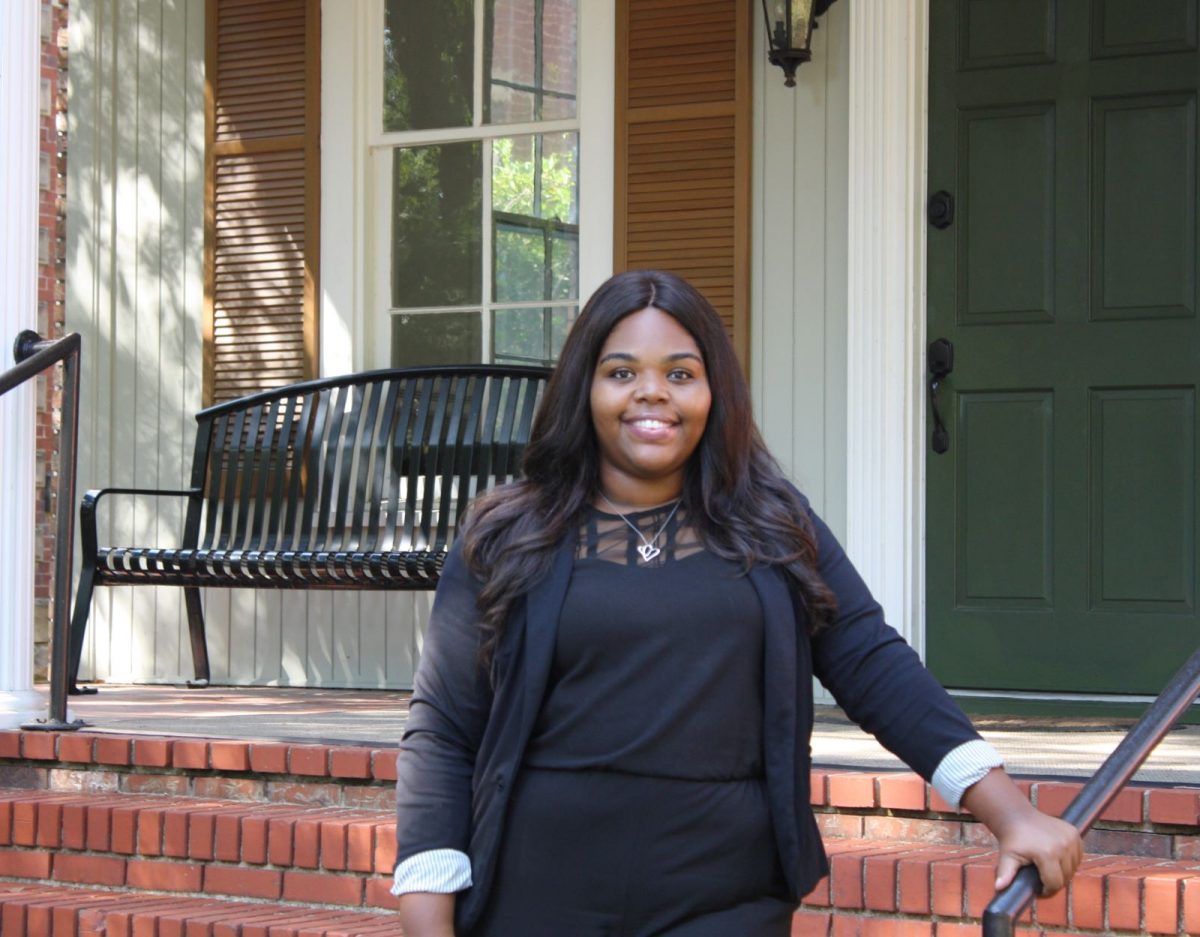 "I make sure every client is treated like they're my family, because I want to represent them in the same way I would want any lawyer to represent my family member; with passion and with everything I have. Even if it's just helping them sort out what the next step is and giving them legal advice, I treat them like family. Many times, the people who come to me are not as privileged as other people and just because they don't have a large income doesn't mean they should forfeit the right to justice and proper representation."

Working with Legal Services Alabama allowed Logan to take part in forums that teach citizens about tenant laws, elder law and how to understand the law to their benefit and protection. She hopes to continue that with her own firm.
"Forums in a public library or fair are a great way to educate people on voting rights, what a will is and power of attorney and give them insight to let them know about estate planning, what to do in a traffic stop and what they should do in case a police officer insists on searching their home. I don't want them to be taken advantage of just because they don't know what the law is and what they're rights are," Logan said.
Legal Services' Selma office is where 31-year-old McGuire also got his start as a new attorney right out of law school. Providing legal representation at no cost and educating his community on civil matters is what he loves most about working there. It has also given him an opportunity to speak at his middle school's graduation ceremony as the keynote speaker and inspire those he grew up with.
"It has been a great experience for me and I'm so humbled to work here especially as a new attorney. Legal Services has provided me a great mentor in my managing attorney, Elizabeth Hollie. Legal Services continues to cultivate my legal career and provide me with courtroom experience right away," McGuire said. "I really hit the ground running."
With Legal Services, McGuire has a lead role in their Rural Economic Improvement Program (REIP) where he travels across several counties in rural Alabama providing access to legal representation and educating citizens of their rights.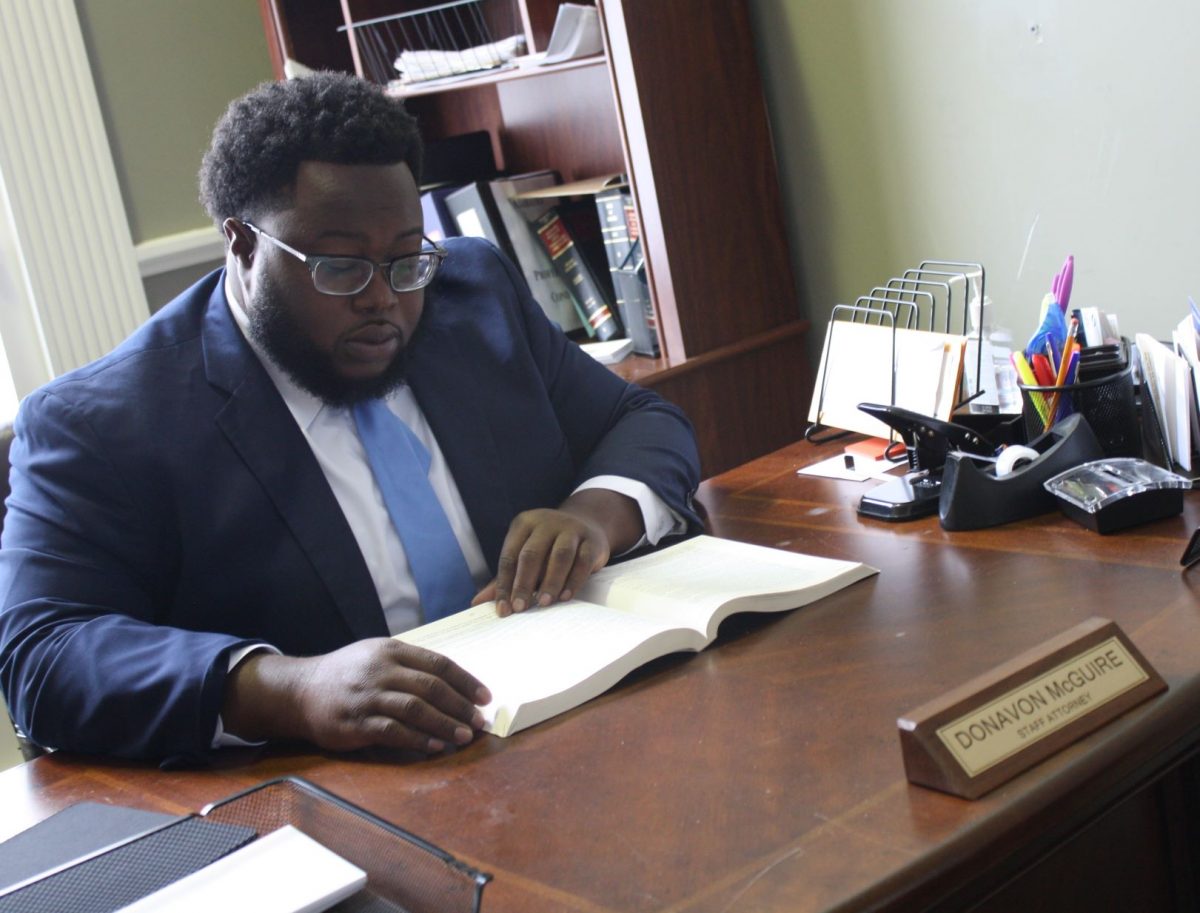 "We want to break those barriers to civil representation," McGuire said. "The Constitution grants you legal representation in criminal matters, but not so much in civil matters. That's where we step in and help those who are indigent and in need of representation and legal services in those low-income areas. Through REIP and other seminars on wills and trusts, healthcare directives and other matters we empower the people. Even if the information and the scenarios we provide don't affect someone personally, it affects their neighbors, a church member they know or a friend. I've been fortunate to be a part of that."
McGuire also takes part in Legal Services' Lawyer for a Day program that allows him to go to court and provide someone's legal representation for the day free of charge.
"That is a very rewarding program because it's hard to go up against another attorney by yourself and we want our community to make sound and informed decisions," he said.
As a student at Jones, he was president of the law school's Ernestine S. Sapp Chapter of Black Law Students Association (BLSA) when the chapter was named the National BLSA Medium Chapter of the Year in 2019. He was proud to have served the chapter and excited for the support he and the chapter had from Faulkner Law faculty and staff. BLSA at JSL was established to address the community and political concerns surrounding minority law students.
"I thoroughly enjoyed my time at Jones and working with the administrators and seeing how they embraced BLSA and diversity at Jones," McGuire said. "Jones was not only close to my home in Selma, but everyone there made it feel like a home from the supportive staff, to the librarians, the custodians and the people running the Coffee Cup. They became like family to me. I could walk past the library and they would tell me, 'It's going to be ok. You can do it.' It was just a great, encouraging experience."
"The Christian background was something that was also very important to me and it and my faith definitely helped me through law school," he added.
Becoming an attorney is a long and strenuous journey, but it's a journey Logan and McGuire were willing to make. It's a dream they've held since they were young, and they've been able to fulfill it with hard work, passion and faith.
Logan always had a dream of becoming an attorney and her passion was ignited the moment she stepped into the Equal Justice Initiative in Montgomery during a trip her ninth grade year. Through the tour, she heard about those who were arrested for multiple convictions without counsel and the injustices done. She knew then she had to pursue law to do her part in reforming the justice system.
In her undergraduate years, fear began to grip her as she neared her decision of which law school to attend. The thought overwhelmed her and the uncertainty of her success held her back.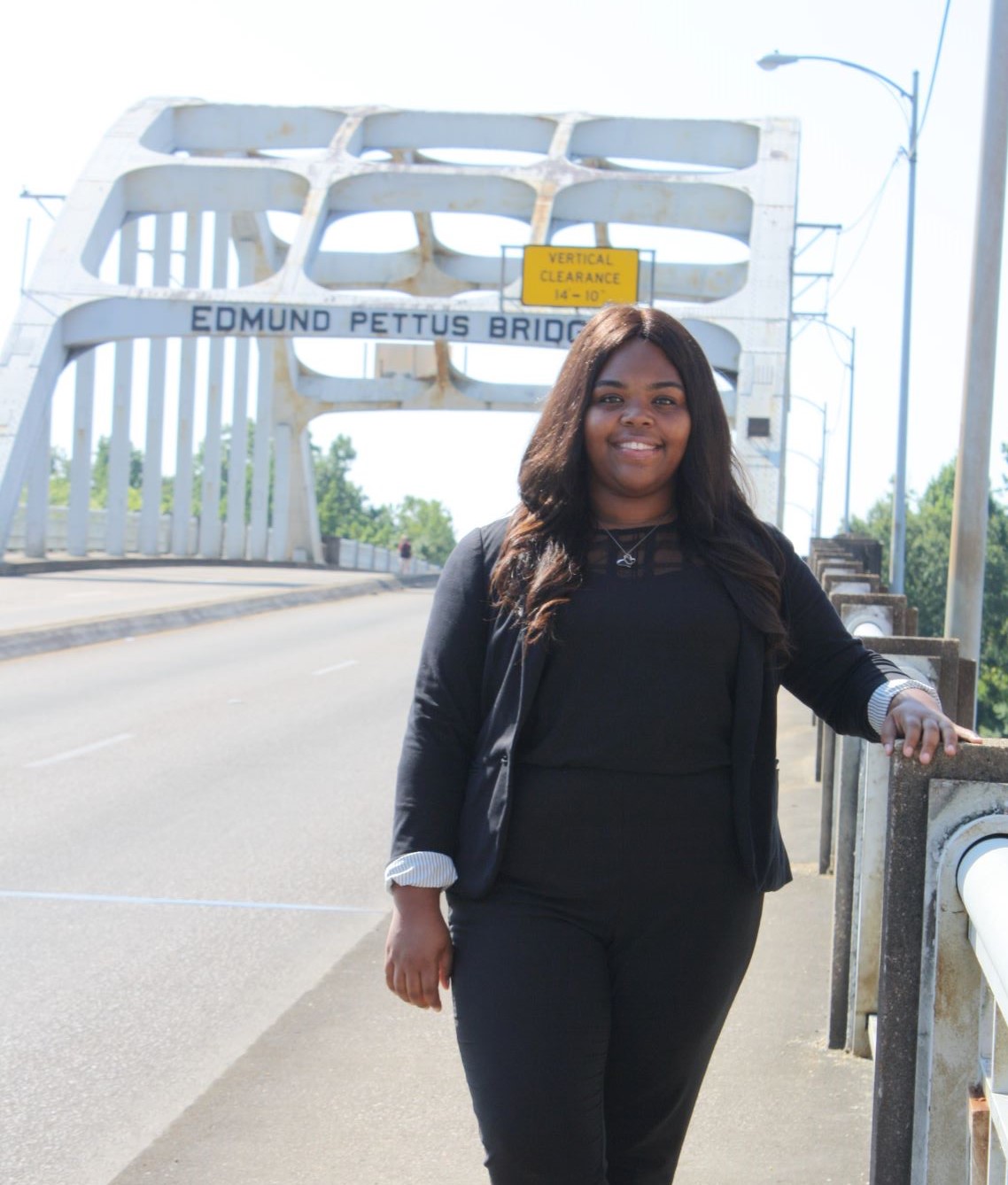 "My drive never left, but doubt and fear got a hold of me, but I believe God puts people in certain positions for a reason," Logan said. "I went to a job fair and a representative from Jones invited me to sit in on one of their classes. I researched the school and their bar passage rate and was very impressed. The moment I stepped into the class I instantly felt at home. I knew that I wasn't just a number there and I knew Jones was my number one choice."
"While attending Jones, the professors were amazing and anytime I had a question, they were extremely approachable."
Likewise, a young McGuire held visions of becoming a judge early in his childhood. Becoming a lawyer is one step closer to that dream.
"I look at the judicial system and there are plenty of gatekeepers to administer justice fairly, but a judge is the chief of gatekeepers and as a judge you want to make sure you treat people with respect because it is intimidating being in a courtroom," McGuire said. "I want to be a face of justice, of fairness, of goodwill and all those things rolled into one. It's more than the pay for me. My biggest concern coming from Selma is being an example to the young gentlemen from where I'm from. I want to let them know that they can achieve anything and everything they want in life."
He's already had opportunities to go back to his middle school and high school to talk with students about his life growing up in Selma, his journey through law school and his current practice.
"Coming from an area like mine, I want them to know you can overcome and become somebody the younger generation can relate to and look up to. That's everything to me," McGuire said.
McGuire attended Tipton Middle School and Southside High School in Selma before earning his Bachelor of Science in Criminal Justice with a focus in legal studies from Auburn University Montgomery. He graduated from Jones in 2019 with a Juris Doctor and passed the Bar exam shortly after.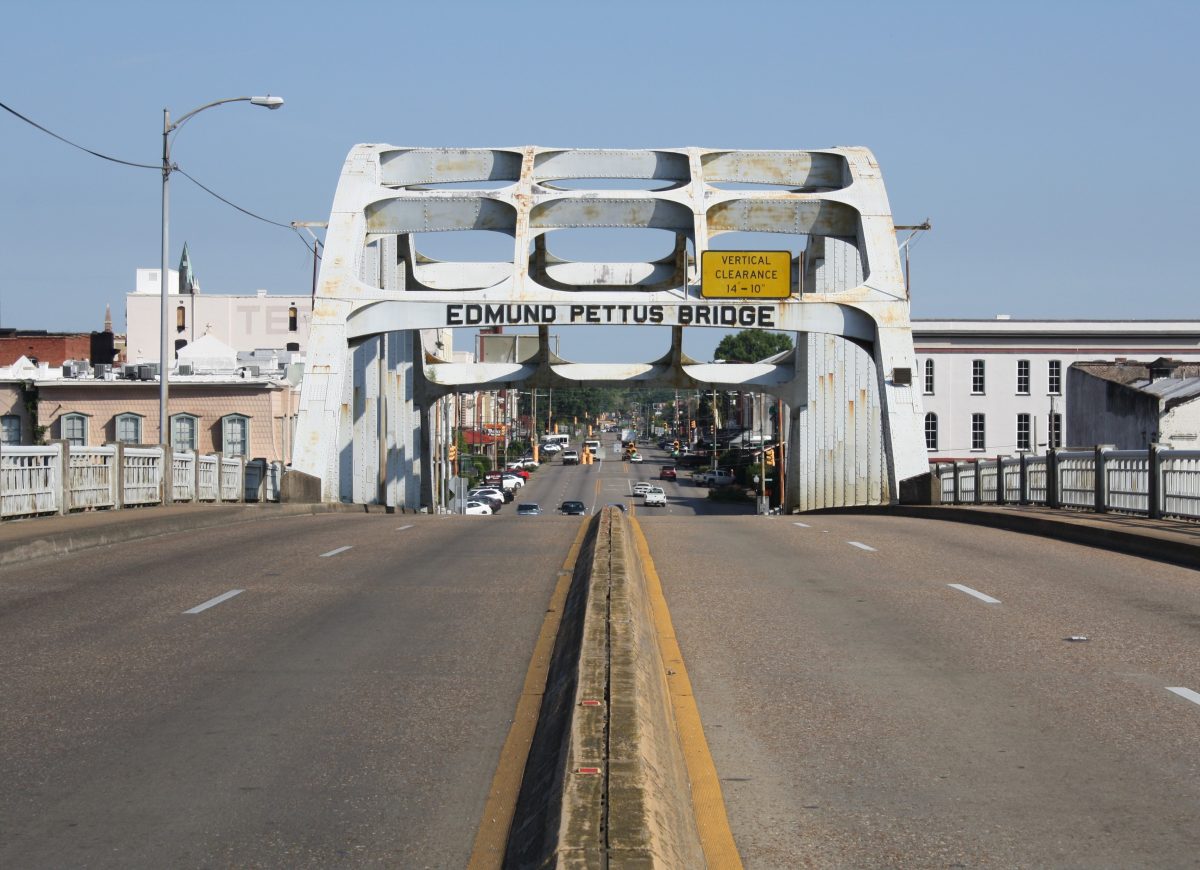 Logan graduated from Faulkner Law in 2019 with two degrees, Juris Doctor and a Master of Law. She also earned an associate of arts and an associate of science degrees while still at Selma High School in addition to earning a Bachelor of Science in Criminal Justice with a concentration in Juvenile Justice and a Master's in Criminal Justice.
She interned with the District Attorney's Office in Montgomery and the Public Defender's Office in Montgomery and worked with the mediation clinic, elder law clinic and family violence clinic at Jones. She was a part of BLSA, Women Legal's Society, Public Interest Society, Public Interest Fellow, Section B 2L senator, & Student Bar Association at Jones.
Her faith encouraged her throughout her journey and especially in opening the doors to her law firm.
"At Jones, I was able to take my God and my Christian faith with me and he has led me in the direction I have needed to go," Logan said.
McGuire's Christian faith, church family and his servant's heart have been foundational pillars as well as he navigates his legal career.
"I don't know what God holds for me, but I'm enjoying my time in the work that I'm doing and I want to gain as much experience as possible to sharpen my craft," McGuire said. "To be a great lawyer, you need to be a better lawyer every day. As my fraternity and I like to say, service is the price you pay for the space you occupy. My heart is wrapped up in service. That's just who I am."