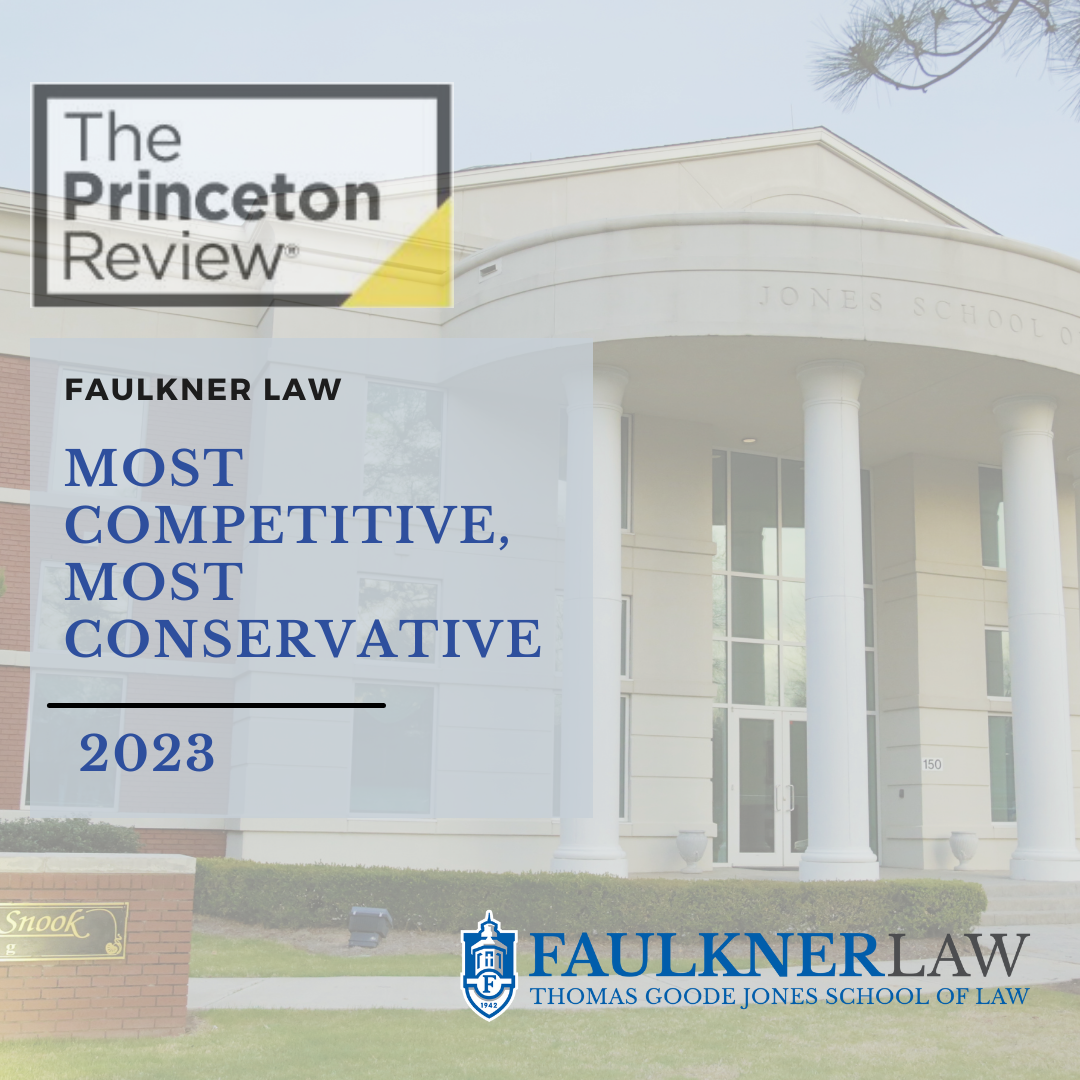 MONTGOMERY, Ala. – Faulkner University's Thomas Goode Jones School of Law is ranked among the Best Law Schools in the nation according to the Princeton Review's Best Law Schools 2023 rankings.
In addition to being included in the list of the top 168 law schools in the country, JSL was ranked third for "Most Competitive Students" and fifth for "Most Conservative Students."
Dean Charles B. Campbell, who has led the school for nearly 5 years, commented, "These rankings reflect some of the things that we know very well about our law school community. Our students have a real work ethic, and they seek to take advantage of the many learning opportunities afforded by the law school's rigorous curriculum, through our clinics and field placements, and in Alabama's capital city and beyond. Their work ethic will propel them to great careers in the law and to great service in their communities. Additionally, we are a Christian law school that takes the pursuit of truth and justice seriously, and this pursuit compels us to carefully examine the law and the philosophies that continue to shape the development of law."
The Princeton Review annually ranks law schools based upon law student and administrator surveys, and it provides an important resource to law school applicants who are selecting the school that is right for them.
About Faulkner Law
Faulkner Law is a Christian law school in the Capital City of Alabama. Faulkner Law students have a unique advantage through the rigorous curriculum and hands-on experience that we provide. We seek students who will not only succeed academically, but who also have a desire to use their legal degree to seek justice and serve their communities – wherever that may be. Faulkner Law is a part of Faulkner University, a private, Christian liberal arts university based in Montgomery, Alabama. With a mission to provide an education anchored not only by intellect but also character and service, the Faulkner experience aims to educate the whole person. Serving both traditional and non-traditional students, the university is home to six colleges: the Alabama Christian College of Arts and Sciences, the Harris College of Business and Executive Education, the V.P. Black College of Biblical Studies, the College of Education, Faulkner Law and the College of Health Sciences. In addition to its main campus in Montgomery, Faulkner operates extension campuses in Birmingham, Huntsville and Mobile along with online degree programs.
For more information, visit www.law.faulkner.edu.