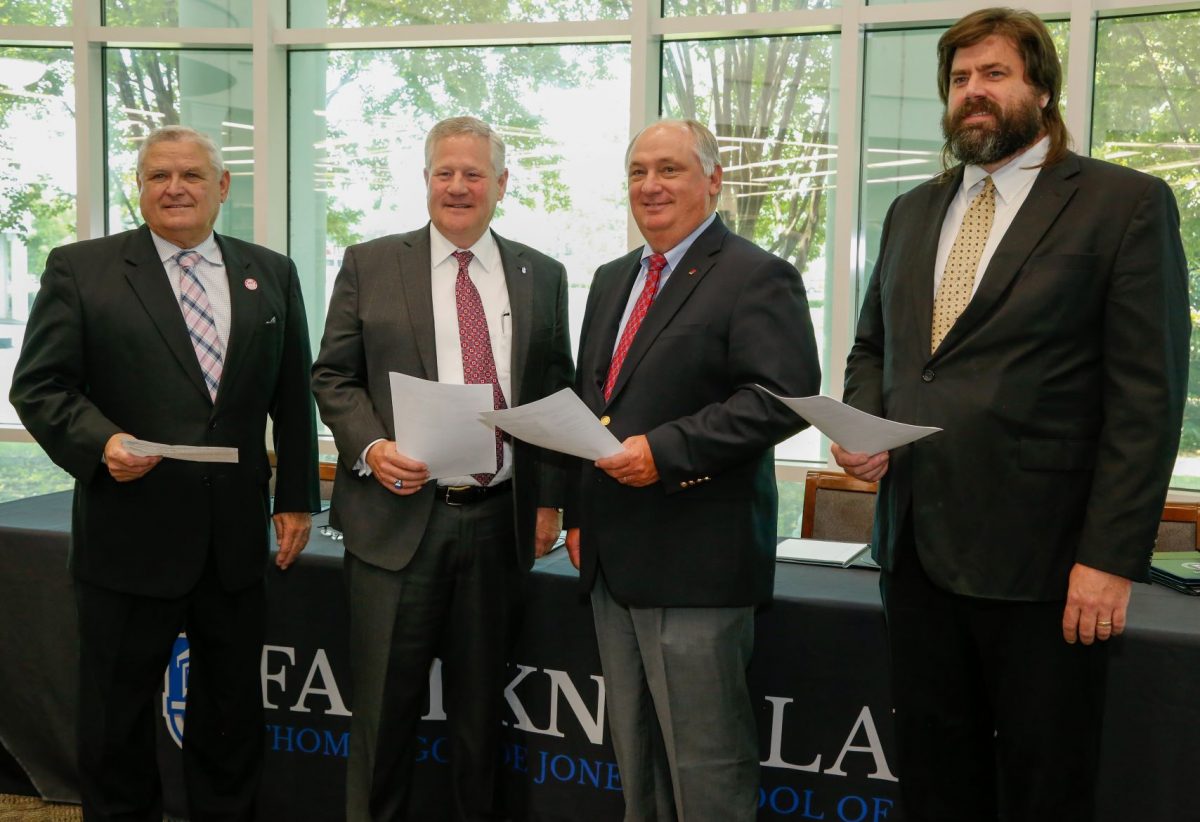 MONTGOMERY, Ala. – Faulkner University's Thomas Goode Jones School of Law entered into an agreement with the Alabama Farmers Federation, the Alabama Department of Agriculture and Industry (ADAI) and the National Agricultural Law Center (NALC) on June 1, 2021, to provide Faulkner Law students with opportunities and resources to enter the field of Agricultural Law (Ag law).
Faulkner President Mike Williams, along with Alabama Farmers Federation President Jimmy Parnell, NALC Director Harrison Pittman and Alabama Agriculture Commissioner Rick Pate gathered on campus to sign a memorandum of understanding that establishes a three-year Alabama Ag Law Pathway.
Covering a diverse spectrum of law disciplines, Ag law is a critical component of Alabama agriculture. It encompasses property law, water law, administrative law, food law and clean energy law among others in order to address crop and livestock production, food safety, land use, resource management and sustainability, environmental protection and much more.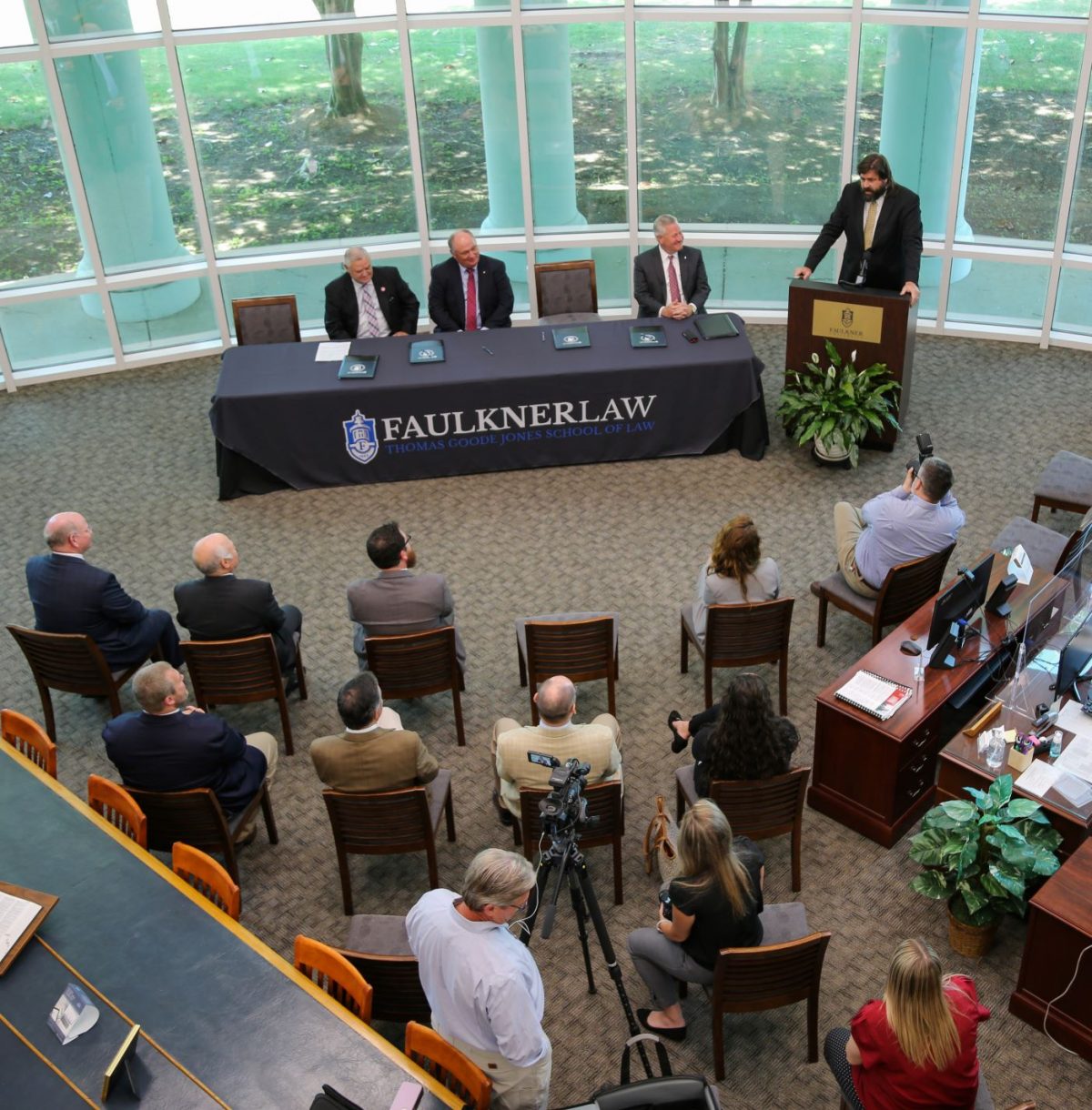 "In many ways I believe this partnership takes Faulkner University right to our missional core as a distinguished Christ-centered university and law school," said Faulkner President Mike Williams. "As I think about agricultural law, it's the foundation of a flourishing society. Ag law also plays an important part in Alabama's economy. This new pathway will allow students to explore courses in Ag law, have great research opportunities and fellowships and internships with distinguished groups like the Alabama Farmers Federation, the Alabama Department of Agriculture and the U.S. Department of Agriculture. We look forward to serving Alabama, the legal community and Alabama farmers through this pathway."
Starting in spring 2022, each year's first-year students at Faulkner Law may apply for admission to the Ag Law Pathway. The partnering entities will select one or two students as inaugural participants in the program. Those students will begin the pathway with an internship in the summer of 2022 at the Alabama Farmers Federation.
"State and federal laws have an impact on our farmers, from property law and taxation to transportation and environmental regulations," said Federation President Parnell. "We feel confident the students selected for this program will gain lots of experience during their internship with us, and we know their knowledge and expertise will, in turn, help our farmers."
During their second year of law school, the selected students will complete a remote research fellowship with the NALC, based in Fayetteville, Arkansas.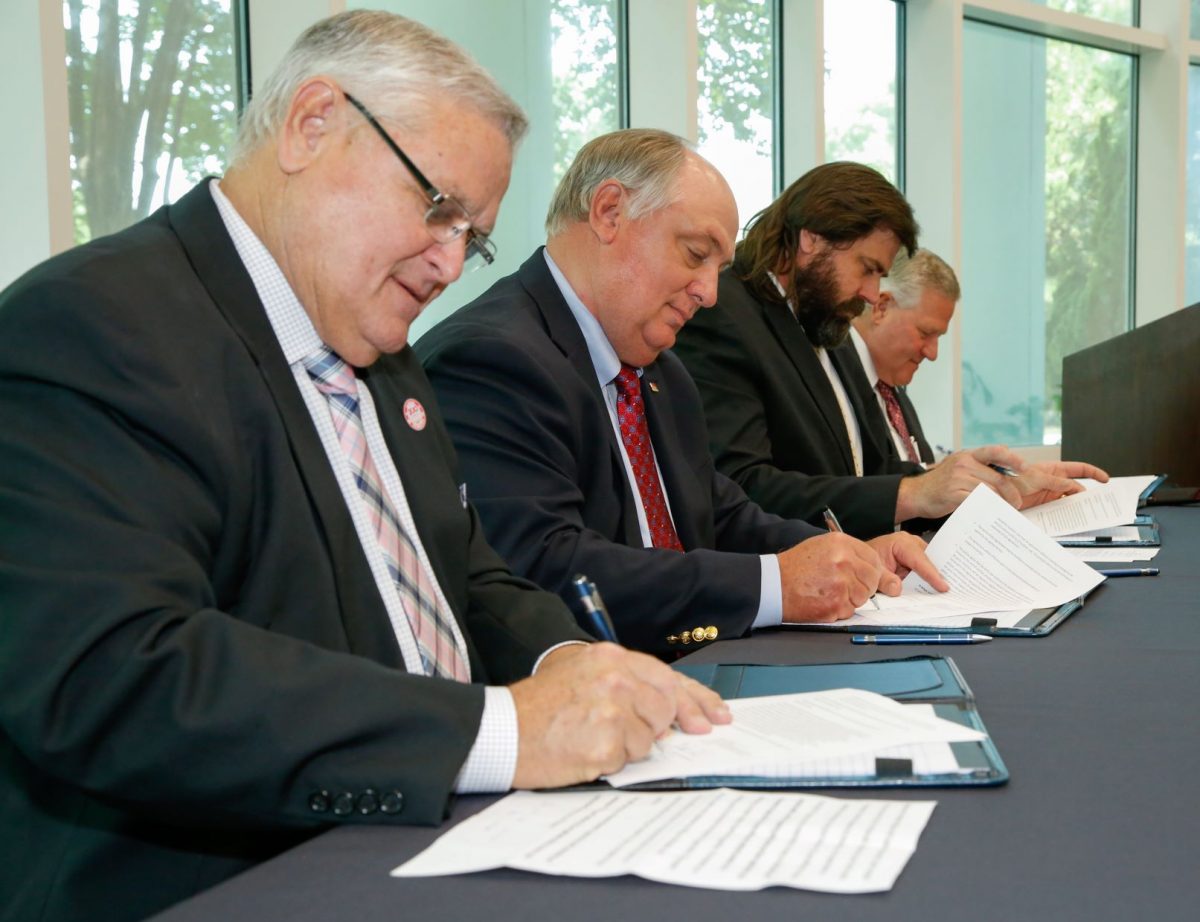 "This partnership is a win-win for all concerned, and not just for the partners, but for the students and the broader agricultural industry in Alabama and beyond," said Director Pittman. "We're very proud to be a part of this and look forward to working with our Alabama friends for many years to come."
In the third year, the pathway will offer an internship with the Alabama Department of Agriculture and Industries in Montgomery, which may be used as a field placement credit required for graduation from Faulkner Law.
"We are excited to know that a few future law students will be given some specific training on the complexity of how laws and regulations impact our rural communities," said Commissioner Pate. "We certainly will benefit, in our role as regulators of agriculture, to have the expertise available. Agriculture is one of the more regulated industries and having attorneys trained in Ag law will help us all sift through what has often become confusing laws and regulations."
Faulkner Law will offer an Agricultural Law seminar as part of the curriculum, available both to students in the pathway and to other law students. The Alabama Ag Law Pathway will open for applications every spring semester.
Attachments: 1- President Mike Williams speaks on June 1, 2021 at the memorandum signing event to establish a three-year Alabama Ag Law Pathway.