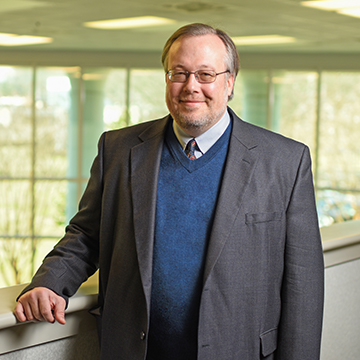 Faulkner Law's Jeffrey B. Hammond and Helen M. Alvaré of George Mason University's Antonin Scalia Law School have just had their newest book, Christianity and the Laws of Conscience: An Introduction, published by Cambridge University Press.
This book is the latest volume in the Cambridge Studies in Law and Christianity series. This series has been developed under the general editorship of John Witte, Jr., Robert W. Woodruff Professor of Law and McDonald Distinguished Professor at the Emory University School of Law and Director of Emory's Center for the Study of Law and Religion.
Hammond and Alvaré's book explores the topic of conscience in Christianity from historical, theoretical, and topical perspectives. It works to define conscience, which remains a foundational theme in both Christian ethics and law. In exploring this topic, this volume reveals similar and different understandings among several Christian traditions.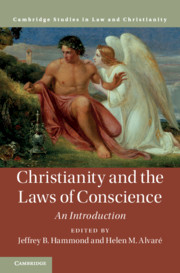 This latest publication is an edited collection of cutting-edge chapters by a heavy-hitting lineup of authors. In their chapters, these authors provide insight into the development of the topic in various historical periods, including the biblical and Classical periods, the Patristic, Medieval, and Reformation periods, and the Modern and contemporary periods. Along the way, major figures who contributed to the development of Christian conscience are studied. The book concludes with consideration of several applications of conscience to contemporary problems, including sexual expressive rights and institutional concerns, among others.
Hammond and Alvaré's book is a vital source for scholars from a wide variety of disciplines who are interested in exploring Christian theological, historical, philosophical, legal, and constitutional meanings of conscience. In addition to co-authoring an Introduction, Hammond and Alvaré authored separate chapters, and Faulkner Law's Michael J. DeBoer, Associate Dean for Academic Affairs, also contributed a chapter.
"Professors Hammond and Alvaré have assembled a volume that scholars will consult for many years to come regarding the subject of conscience. Hammond and Alvaré care deeply about the subject, and they help all of us to gain a clearer understanding of the important topic of the human conscience through this volume, published by one of the world's leading academic publishers," said Charles B. Campbell, Dean of Faulkner Law.
Jeffrey B Hammond is an Associate Professor of Law at Faulkner Law. He joined the law school faculty in 2007. In 2001, he was a joint-degree graduate of Emory University's Law and Religion Program (now Center for Study of Law and Religion), receiving the J.D. degree from Emory University School of Law and a Master of Theological Studies degree from Emory's Candler School of Theology.
Hammond practiced in the area of health care law from 2001 to 2007. From 2001 to 2004, he practiced at Baker, Donelson, Bearman, Caldwell & Berkowitz, P.C. in Nashville, Tennessee, and from 2004 to 2007, he practiced at Waller, Lansden, Dortch & Davis, LLP in Nashville.
Hammond's research interests are interdisciplinary in nature and include the intersections of law and theology, law and bioethics, religious liberty, health law, and the philosophy of law.