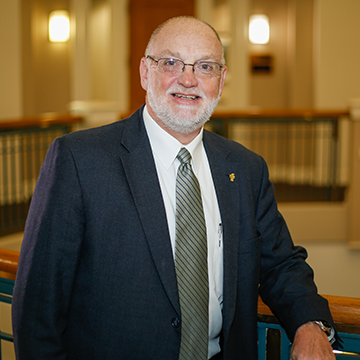 Gerald Jones is not only a graduate of Alabama Christian College, but he has served the institution, now known as Faulkner, for more than 25 years. He was one of the College of Biblical Studies' featured speakers during the recent Marketplace Faith Forums.
Jones was selected as Faulkner's Teacher of the Year in 1997-1998 and in 2002-2003 he was named the Professor of the Year by the students at Faulkner Law. He has provided legal services to Faulkner and served as the Associate Dean of the Harris College of Business. He is now serving as the university's full-time General Counsel.
Jones holds a Juris Doctor from the University of Alabama School of Law and has been licensed to practice law in Alabama since 1989. He holds a Master's degree in human resource management from Troy State University at Montgomery.
He was a member of the first four-year graduating class of Alabama Christian College in 1983 and received a Bachelor of Arts in Bible, magna cum laude.
He served as Vice President of the Student Government Association for 1980-1981 as a student, was a member of the Kappa Sigma Phi for his first two years at and was a member of the Epsilon Phi Upsilon for his last two years.
After graduation, Jones was involved in private law practice for about four years. He also served as summer youth minister for the Oxford Church of Christ, as preacher for the Rockford Church of Christ and as youth minister for the Highland Church of Christ at Carriage Hills.
Jones has been married to Melissa Hilyer since April, 2000 and they have two children, Jewell, 15, and Brack, 13. They are members of the University church of Christ, where Jones serves as a deacon and both he and his wife are active in the teaching ministry.